Best Golf Irons 2019 – Expert Review Of The Best Irons On The Market
Welcome to our Best Golf Irons 2019 review!
In this comprehensive guide we have sifted through the absolute best golf irons currently available on the market. The guide separates irons by category, price and features to help you find the best golf irons for your game.
We have tried to keep our selection pretty broad in terms of handicap suitability, but admittedly, most of the irons featured below are for low single figure to mid-teen handicaps.
If you are just beginning golf or are a high handicapper we recommend you check out our review of the Best Golf Clubs for Beginners, or better still check out our selection of Best Irons For Beginners.
Let's jump into our Best Golf Irons review and find out which is best for you and why!
Best Golf Irons
Use the quicklinks to navigate our Best Golf Irons Review.
Best Golf Irons by Category
Editor's Choice #1: TaylorMade M4 irons
The visual differences are that the Speed Pocket in the sole is longer and slimmer, while the RIBCOR technology behind the face slots is there to enhance sound and feel. But the main acts here are undoubtedly distance and forgiveness. The aim is to mitigate the distance loss and deviation on bad strikes, and this is about as good as you'll get in this respect.
And then, of course, they're long. Very long. And it's not just when you look at the distance numbers that you appreciate the length. The sound and feel at impact are immense – almost akin to a driver, rather than an iron.
And with excellent deals available on these irons online, you may just want to snap this up.
High, straight and long. Distance and consistency to the nth degree
Very forgiving, especially the long irons
Excellent sound and feel thanks to RIBCOR technology
Given all the technology involved, these irons are great value
None really, except that loft is lower than most game-improvement irons
Editor's Choice #2: Mizuno MP18 Irons
Three and a half sets to choose from in order to maximize playability and improve or enhance certain areas of your iron game that will result in better scoring. Massive amounts of workability and versatility on offer and pin point accuracy if iron play is a strong point in your game.
If you're a 5 handicap or lower and are passionate about this beautiful game then give these a go – you are sure to be wowed!
Option of combining aspects of three and a half sets maximizing your iron play potential
Control and workability some of the best we've ever tested and experienced
More cushioning available in the SC's and MMC's
Beautiful overall design with just one step across the rear of the blade
Only the best ball strikers should give the true MP18 blades a go. The other variations are more suitable if not
Pro's Choice 2019: Callaway Rogue Pro Irons
The Rogue irons are an excellent option for game improvers, but in terms of low to mid-handicap players, the Pro version has all the attributes you'd hope for in a set of irons. It comes in 3-PW, fares very well in terms of playability, and the design is rather easy on the eye. Furthermore, it bridges the gap to double-digit handicappers by offering supreme forgiveness, and you'll be very impressed with the distance on offer, particularly with the long irons.
The only question to contend with is price. But even though it costs a few more bones than you may be budgeting for, it delivers great value for money.
Really feels like you can work the ball with these irons. Lightweight stock shafts help a lot in this respect
Stylish use of the chrome at the back, and topline looks good to the eye at address. Quality design
360 Face Cup and Variable Face technology account for a significant boom in distance
Consistent distance control with lots of forgiveness on mishits
You're looking at stumping up about 900 bucks here, so it's hefty
Bit of a harsh 'click' sound at impact
Pro's Choice #1: Titleist 718 AP2 Irons
The feel and playability have been improved on making the 718 AP2's just brilliant. Not to mention just how classy they look too.
The AP2's are absolutely world class irons and provide ample distance, playability, forgiveness and feel. If in doubt regarding price – just know these are going to be in it for the long haul and will hold their longevity in terms of design and performance.
Considerable improvement in terms of forgiveness from the 716's to the 718's
Feel beautiful through impact particularly the 5, 6 & 7 irons for some reason
The steel face inserts have added a few yards to each and every iron – always handy!
Thumbs up all round in terms of appearance – just classy and clean
You need to be a good ball striker in order to get the most out of the AP2's
Pro's Choice #2: Callaway Epic Pro Irons
Exceptional feel and particularly control. You can work the ball either way at the drop of a hat and control trajectory with no difficulty whatsoever.
Not to mention just how consistent they are too in terms of distance control. Fantastic job by Callaway.
Wonderful feel – certainly as playable as any cavity back we've ever tested
Despite the small design they're still more than forgiving enough
Looks good at address and the Epic Pros are well engineered
Guaranteed results and consistency, world class performance if suited
They really are pricey, just have to mention it unfortunately
Best Value #1: Cobra King F8 Irons
There are significant upgrades on the F7 range, including lower CG (thanks to shorter hosels and shallower clubfaces), and they've simplified the head constructions down from four to three within the range (a new 'Hollow' head design from 4-7 iron). The PWRShell cup face has also been lightened to the tune of 7g, and there is a boost to ball speeds courtesy of variable face thickness.
The sound is a little bit dull, but we liked the feel, and you can tell the difference in launch and smash as a result of the lower CG. At a competitive price, our take is that any mid-handicapper should give these a whirl.
Great value for a quality set of irons
Long irons are top notch in terms of distance and consistency – up there with any rivals
Cobra Connect Arccos shot tracking sensors are a handy little freebie
Three head construction doesn't necessarily look all that aesthetically-pleasing
Best Value #2: Callaway Steelhead XR Irons
Is this going to be the set of choice for low single-figure players? Doubtful. But in terms of game improvement, these irons are right up there, and we think there's a good chance the Steelhead XRs could float your boat – and at an affordable price too.
Callaway's Face Cup technology enhances distance and feel
Variable CG from long to short irons works effectively
Forgiveness in the extreme
A wallet-friendly price tag
The lowest of low single-figure players won't be interested
Best Irons for Mid-Handicapper: Taylormade M1 Irons
Not to mention just how good these irons feel through impact – fantastic! The M1s have a unique design which is going to appeal to a wide range of golfer and at the price they are certainly going to become a fan favorite in next to no time. Great set of irons by Taylormade.
The Face Slot/Speed Pocket combo has delivered accuracy, distance and forgiveness all in one
The lower center of gravity has delivered even more forgiveness than previous player's irons
The M1's are compact and look the part – will definitely appeal to a wide range of players
Good value for money
Not the easiest irons to work in terms of shot shape – if this doesn't bother you then no problems here!
Best Irons for Mid-Handicapper # 2: Callaway Epic Irons
Very long and also consistent in terms of dispersion left and right of target. They are slightly expensive, but man are these going to turn your iron play around. You may not notice it at first, but give them a handful of rounds and you'll see just what we're talking about.
Low spinning off the clubface providing superb ball flight with plenty of distance
Perfect combination between a generous topline and compact clubface
Forgiving and consistent in terms of distance and dispersion
Suited to a wide range of player despite being termed more of a 'game improvement' iron
A bit on the pricey side of things
Sounds a bit dull on off center mishits, but generally still more than acceptable
Worthy Competitors #1: TaylorMade M3 irons
That said, the M3s have a lot of fans, and it's not hard to see why. For starters, they're a couple of hundred dollars cheaper than the P790s, and, for better players, there is a heck of a lot more control and workability on offer compared with the M4s. So, for better players, this might just hit the sweetspot. We were also impressed by how easy the long irons were to hit, and trajectory consistency was a big plus. Added to that, there is a big range of stock shaft options to choose from, so fill your boots.
All in all, a definite thumbs up from Golf Assessor. Just not quite as unequivocal as some of its competitors on the market.
Long irons are forgiving, and very easy to hit
No shortage of options in terms of stock shafts – steel and graphite
Good carry, and a consistent trajectory
Not as much workability as the P790s
Quite pricey for cast irons
Worthy Competitors #2: Wilson Staff C300 Forged Irons
It's noticeable that there isn't as much distance on offer compared with the C300s, but that is more than made up for in terms of feel and workability. We also think the topline is spot on, and the thickness of the 8620 carbon steel heads is on the money too.
In short, they look good, they feel good, and give you more than just a semblance of control with your ball striking. And this price point for forged irons definitely makes them competitive. If you're a single-figure player, these irons may be worth a second glance.
Forged design oozes quality
Very workable irons, and good distance control with the mid-shorter irons
Definitely a reasonable price
Bit of a hollow sound at impact
Not clear what benefit the Power Holes bring to these forged irons
Worthy Competitors #3: Srixon Z 765 Irons
The Z 765s are undoubtedly targeted at better players, but, that said, the muscle cavity provides a decent amount of forgiveness, and that extra bit of cushion will open the door to the average weekly golfer too. And then there's the design… just, wow!
Very clean look: thin top line, thin sole, minimal offset and understated design
1020 carbon steel makes for a delightfully soft feel, but with good feedback on bad shots too
The price is reasonable
A quality player's club with well-disguised forgiveness
The only reason not to go down this road is if you already have a set of Z 745s. Not quite enough differentiation to warrant an upgrade
Worthy Competitor #4: Ping iBlade Irons
These are surely the most stylish irons Ping have produced to date too, and it's a good modern blade. But does $1,200 represent good value here? We're not so sure…
Forgiveness enhanced by extra tungsten plug in the toe
Clean, compact design with minimal offset
Very easy to hit, with excellent sound and feel
Good feedback on mishits, despite impressive levels of forgiveness
Lower spin and less penetration in ball flights
On the pricey side of average
Worthy Competitor #5: Mizuno MP5 Irons
Mizuno and the word 'irons' go hand in hand. The MP5's are quite simply beautiful in terms of both look and feel.
Mizuno have always been known for their blade irons and the MP5's are another perfect example. What really appealed to us was the excellent flow of the set which provided the same level of performance, feel and forgiveness. The MP5's generally provide a low trajectory that helps keep it on target especially with short iron approaches.
Grain Flow Forged from a single billet of 1025E Pure Select Mild Carbon steel for exceptional feel. If you're a low handicapper then these are a fantastic set of irons that will check just about every box – cut, draw, slice, hook, low stinger. You will definitely be taken aback at the versatility. If you're a mid to high handicapper though, stay away from the MP5's not because they're bad. But because they are exceptionally demanding in terms of ball striking.
Absolutely beautiful blade design
Pure strikes provide exceptional feedback and feel beautifully soft
Mizuno engineers have fine-tuned acoustics and vibration at impact
Thin top-line and minimal offset that provide the purest ball flight for the better player
If you are not a pure ball striker, these babies are not for you
Worthy Competitor #6: Callaway Apex Pro 16 Irons
The forged slightly bulky appearance provide superb feel on both center and off-center strikes minimizing that important distance gap. The graded COG provides optimal trajectory for each and every club although we still thought they're a touch on the low side. Slightly higher in terms of retail price than competitors , but they are superb value for money!
If you're in the low to mid handicap bracket the Apex Pro's will add that fun factor back into your game and add confidence at the same time.
More than long enough and almost certainly going to add yards to your current set of irons
Forgiving set of players' irons – particularly in the longer irons such as 3 & 4
High launch angle which really aids your long iron play and being able to attack tighter targets
It is somewhat of an effort to hit them with a low ball flight when need be
The appearance is slightly chunkier than some other manufacturers although still not over the top by any means
Worthy Competitor #7: Titleist 716 AP2 Irons
Rated as best value due to a number of factors, but primarily the dispersion in both distance and direction is superb. No other forged irons can meet the technical advancements of the 716 AP2's and that says a lot.
What is most appealing though is that even though they are aimed at the better player, the forgiveness is excellent. So you don't have to stress when standing over a long iron having to carry water – the 716 AP2's help your confidence big time.
Really good value for money option and these will hold their style and character well for a few years to come.
Solid attractive appearance to the clubhead
25% more tungsten to improve off center strikes and forgiveness
Compact club-head with little offset
Exceptionally consistent in both shot dispersion and distance, which is a huge plus
Not as long as competitors
No 'spring' like effect from center strikes providing added distance
Worthy Competitor #8: Taylormade P770 Irons
The short irons feel great and overall the set provides ample distance due to the lighter steel shafts and slightly aggressive lofts. A sexy set that offers consistency, playability as well as forgiveness.
A lot more forgiving than the P750 Proto irons whilst still holding the slim line appearance
Lighter shafts provide a boost in swing speed and most notably distance
Even though there is a progressive offset the heads are still relatively small
Short irons could feel slightly better when struck out the center
Fairly pricey when comparing to other competitors
Other Irons #1: Taylormade PSI Tour Irons
The PSI Tour's feel and sound beautiful on reasonable to good strikes and are long enough to keep up with the long hitting 'Jones'.
Workability is fantastic and will provide the confidence to attack the riskier targets. At the slightly higher price than competitors the PSI Tour's still of good value if you are a low handicap player.
Relatively long, more than enough under the hood to keep you happy in this department
Inspired by the help of leading professionals
Attractive intermediate top line and little offset
Incredibly soft feel on center strikes at impact
Not exceptionally forgiving
If you are a poor ball striker or handicapped over 5, then forget these puppies. They are only targeted at the best amateurs and professionals
Other Irons #2: Titleist 718 AP3 Irons
Exceptionally forgiving and long at that too providing huge confidence when holding a 4 iron and needing to carry water to the intended target. What we were most impressed with is the consistency the AP3's offer in both distance and dispersion. Some of the tightest packed bunch of golf balls we've had when testing sets of irons.
Despite the retail price being $1149 and a little on the high side, they are still competitive and offer immense value particularly for the lower handicap player who doesn't play as regularly as they wish. Or if you're a mid handicap player that is still on the up and play regularly enough to build confidence as you go.
Great set of irons.
Superb forgiveness and launch, particularly when you strike it thin
So much is similar to the AP2's such as feel, control but just far easier to hit
Really long especially with the longer irons
Despite the bigger offset than the AP2's they still have a fairly thin top line
A slightly dull blunt sound when hitting the 3, 4 and 5 irons
Other Irons #3: Mizuno JPX 900 Forged Irons
But out of all the tweaks and improvements that have been made, the most impressive is the variable face thickness design, which encompasses the benefits of weight redistribution you associate more with top-of-the-range drivers.
All in all, it's a truly world-class product, guaranteed to improve distance and forgiveness. Well worth giving these puppies a test drive.
Variable face thickness underpins cutting-edge design
Tangible differences in ball speeds and distance when compared with JPX-850s, and excellent flight/trajectory
Unmistakable forged feel, and sound is very pleasing
Redistribution of weight as a result of thinner face to corners of the PowerFrame noticeably enhances forgiveness
A step in the right direction for reaching out to beginners/high handicappers, but not quite the silver bullet
Other Irons #4: Titleist C16 Irons
Perhaps these irons aren't geared towards the lowest of low handicappers, but, if you don't fall into that category, we can assure you that they're simply out of this world. It's just the price tag you need to contend with.
It's an eclectic mix of everything cutting edge in iron technology
Steel (K301) Cup Face yields tremendous carry and distance in long irons
1RK95 High-Strength Steel Face in the shorter irons gives you plenty of control
Forgiveness to the nth degree from 4 to PW
It's eye-wateringly expensive. This one's for the big dogs
These are game improvement technologies at work, so probably won't appeal to low handicappers
Assessment Criteria
In general irons have the most stability in terms of the golf market as new models are only released every year to two years. Some manufacturers like Taylormade are a lot more regular, but if you purchase a brand new set of irons that have just been released you can be fairly sure that you'll be current for at least 15 – 18 months.
With the huge variety of offerings on the market, the most challenging aspect we had was choosing a comprehensive set of irons to review.
We initially cast the net wide, but quickly whittled the list down to our view of the best golf irons available on the market at the moment.
Below you can find a side-by-side comparison of our list of best golf irons.
All irons were put to the test against our standard assessment model, where we looked at 4 key aspects: Design and Appearance, Build Quality, Control & Performance, Design & Appearance and Value for Money. Individual scores of each of these aspects was then aggregated to give an overall assessment score, as follows:
Best Golf Irons Buying Guide
Build Quality
You don't have to be an equipment nerd to appreciate how the bar is being raised in terms of manufacturing quality. We're seeing all sorts of experimentation with materials: everything from tungsten to lighter forms of carbon are being thrown into the melting pot.
Different face inserts and designs are findings ways to add strength to the clubhead in the absence of bulk, and it's releasing the shackles in terms of both distance and consistency as a result.
Whether forged or cast iron, blade or cavity back is your bag, there is much to contemplate (and admire) when it comes to quality control. Luckily, you're in good hands with us.
Control and Performance
It's pretty safe to say that there is a dividing line when it comes to golfers of different abilities. Leisure golfers seek forgiveness (and more forgiveness) in their irons, whereas better players, generally speaking, thrive on blades which could cut diamonds, and which provide ample feedback on bad shots.
For manufacturers, this has often resulted in a trade-off, depending on which type of golfer they seek to target. But this once mutually-exclusive relationship between forgiveness and slimness is diminishing, and we golfers really are starting to get the best of both worlds.
The question is, which brand marries these two elements best?
Design and Appearance
There is nothing quite like putting an iron down on the ground, and having a top line that suits your eye. It just gives you that priceless extra bit of confidence at address, and I firmly believe that a set of irons you're proud to own takes shots off your score. But there's a lot more to it than just the top line.
Offset, badging and thickness of the blade are just a few of the aesthetics which matter, while the type of material used will play a crucial role in the look and feel.
Ultimately, these are fairly subjective things to assess, but there's no doubting that when you come across a club which looks the part, you'll just know it.
Value for Money
Within the world of golf equipment, you're probably not going to find greater scope for variance in terms of price than with irons. True, that's partly because you're going to be purchasing eight separate clubs – or more! But it's also because the difference in quality between the best and the worst is so vastly polarized.
So a lot of it depends on what you're after, and your ability isn't necessarily a determinant in this regard either. There is cutting-edge stuff out there for those hunting down game-improvement irons; in much the same way that paying for the finest of fine blades comes at a price.
But, as ever, if you are being asked to pay a lot of money for something, you need to understand why. Only with this in hand can you make meaningful comparisons with cheaper – or pricier – alternatives.
Have Your Say!
We put this article together to help players, like yourself, find a set of golf irons that suits their specific game, level and budget. By keeping this guide updated and via feedback from the GA community, we hope this article becomes a great resource for anyone looking to get a new set of irons. Please let us know your thoughts in the comments below.
Michael Todt
Mike fell in love with the game from a very early age – a passion that hasn't diminished ever since. He earned provincial colors throughout his junior years, but by the time he reached Varsity, the realization set in (thanks largely to some cold ales) that it was time to favor the pen rather than his clubs. He now writes for GA along with a few other sources.
Currently I am a 28 hcp and am looking for new irons with senior shafts. I went to a PGA store and after doing the club speed analysis, they recommended the Cleveland Launcher HB irons. In looking at sever web pages that review clubs I do not see anyone recommending these clubs. Have you reviewed them and or can you enlighten me on this purchasing decision.
Thanks,
Lee Berry
Hi Lee, thanks for getting in touch. The Cleveland Launcher HB irons are a great shout. They were only released last quarter of 2017 and a few review sites have actually reviewed them giving them thumbs up and so do we. Golf digest is another that has given them a gold star. In our opinion they would be perfect for your game! All the best.
hi there im looking for new irons im about a 14 handicap but starting to play more use ping zing now what you think i should get in your opinion thanks tyler
Hi Ty, I recommend you look at game improvement irons like the Taylormade M4 irons or the Mizuno JPX900 Hot Metal. All the best!
I'm about a 12 handicap. I hit my old Ping Zing 7 iron 175 yds. Tried hitting the Epics and hit the Epic Pro 7 iron 195 yds. I'm ready to buy but someone suggested the Taylormade 760 or the PXG gen 2. Not sure I'm ready for that PXG expense, but would like to know the ranking of these 3 clubs. I have a very fast swing. Should I get a X-Stiff 6.0 flex?
Hi Scott, definitely go with the Epic Pros (if you are comfortable with the slightly smaller head), otherwise the Epics. Perhaps even hold out another month or two when the new Epic irons are released and you can take advantage of a discounted price on the original model. Hitting it 195 yards with a 7 iron is deep so you should be better suited to 6.0s and it'll also straighten out shot shape and lower the ball flight a touch.
My daughter is 15 and I am looking for a good second set of irons for her to play. She is a mid handicapper and her current box set of cobras are in need to be replaced. Looking to help improve her game but not limit her with a set that is too advanced. Should she stay with a womens graphite shaft and what irons would be better for her situation with a lower ball flight?
Welcome to our Best Golf Irons 2019 review! In this comprehensive guide we have sifted through the absolute best irons currently available. Find the right set for your game!
Golfweek Better-Player Irons
Latest News
Equipment 4w ago
First Look: Srixon Z-Forged irons
January 21, 2019 12:01 am · David Dusek
Gear: Srixon Z-Forged irons Price: $142.85 per club with Nippon N.S. Pro Modus3 120 steel shafts and Golf (…)
Equipment 17 Jan
Titleist releases all-black 718 AP2 and AP3 irons
January 17, 2019 8:58 am · David Dusek
Titleist released the 718 AP2 and 718 AP3 irons in August 2017, and the chrome-finished clubs have found their way into bags of tour (…)
Equipment 04 Jan
First Look: Callaway Apex, Apex Pro 2019 irons
January 4, 2019 8:57 am · David Dusek
Gear: Callaway Apex, Apex Pro 2019 irons Price: Apex: $1,399 with True Temper Elevate steel (…)
Equipment 15 Oct 18
TaylorMade P760 irons
October 15, 2018 12:21 pm · David Dusek
Gear: TaylorMade P760 irons Price: $1,399.99 with True Temper Dynamic Gold 120 shafts and Golf Pride Tour (…)
Equipment 27 Sep 18
Srixon Z 585, Z 785 irons
September 27, 2018 4:46 pm · David Dusek
Gear: Srixon Z 585, Z 785 irons Price: $999.99 with KBS C-Taper steel shafts and Golf (…)
Equipment 29 Aug 18
Mizuno 919 Tour irons
August 29, 2018 5:45 am · David Dusek
Clubs: Mizuno 919 Tour irons Price: $150 per club with True Temper Dynamic Gold 120 shafts and Golf Pride (…)
Equipment 29 Aug 18
Mizuno JPX 919 Forged irons
August 29, 2018 5:44 am · David Dusek
Clubs: Mizuno JPX 919 Forged irons Price: $163 per club with True Temper Dynamic Gold (…)
Golfweek Better-Player Irons Latest News Equipment 4w ago First Look: Srixon Z-Forged irons January 21, 2019 12:01 am · David Dusek Gear: Srixon Z-Forged irons Price: $142.85
The Best Players/Forged Irons of 2018
As the upcoming golf season approaches, we have taken a look at the new releases that have emerged onto the market, bringing together the Best Players/Forged Irons of 2018.
Callaway Apex MB
The Callaway Apex MB iron is a true muscle-back blade with a classic, compact shaping and style, a traditional, slightly thinner top line and a beautiful, bright chrome finish. It is no wonder it quickly became Callaway's most popular iron on Tour.
By paying attention to CG positioning, the Apex MB offers a flight preferred by Tour players, while retaining more traditional lofts and consistent distance gapping. Each iron is forged from a single piece of 1025 Carbon Steel for a remarkably soft feel, with exact craftsmanship and precision that can only be achieved through Callaway's premium Triple Net forging process. This allows for a more aggressive and precise 'V' shaped groove pattern, to deliver consistent control and shot shaping, for pin-point accuracy.
Golfshake View
Specification
Loft: Available 2 – AW
Shaft: KBS Tour-V (R, S and XS flex)
Price: £120.00 per iron
Callaway X Forged
The Callaway X Forged iron has a clean and classic look at address and has been engineered for high performance and exceptional feel from a precise Triple Net Forging process. The single piece, cavity back iron features Tour configured soles, CG progression for precision shot-making and accuracy, with just the right amount of forgiveness and a classic finish.
The X Forged also has a similar precise and aggressive '20V' shaped grove pattern as the Apex MB, and promotes high levels of control and spin out of any playing conditions.
Specification
Loft: Available 3 – PW
Shaft: Project X
Price: £1,049.00
Find out more at Golfshake.com here or visit the Callaway website here.
Mizuno MP-18 Series
Mizuno's MP-18 series features three distinct irons that will stand out to the lower handicap golfer, in the MP-18, MP-18 SC and MP-18 MMC. The standard MP-18 is the "Craftsmen's Muscle Back" and features a shorter blade length, cambered top line and steep progression into sharp, compact wedges. The iron is Grain Flow Forged from a single billet of 1025 E Pure Select mild carbon steel and has an even softer feel thanks to an evolved Grain Flow Forged High Density process that concentrates the grain in those billets more tightly for incredible, precise feedback.
The SC (Split Cavity) model is a compact cavity back. It has a slightly wider, cambered sole that brings a greater degree of playability than the muscle-back, although thin, tapered top lines, short head lengths and smaller wedges mean this is still a tour ready iron.
The final member, the MMC (Multi-Material Construction), is a highly stable, forgiving multi-metal construction iron, which also satisfied the craftsmen's aesthetic desires and demands at address. The design uses lightweight titanium (8g) and heavier tungsten (20g) to deliver surprising off-centre performance, with the same High Density feel as the other two models.
Golfshake View
Specification
Loft: MP-18 Available 3 – PW
MMC Available 4 – PW
SC Available 3 – PW
Shaft: Numerous custom fit options
Price: £945.00
Find out more at Golfshake or visit the Mizuno website.
PING iBlade
PING's IBlade is the company's most workable blade-style iron to date, with a focus being made on providing a buttery feel with maximum forgiveness. Its combination of a thin top rail, minimal offset, a straight leading edge and a sharp high toe, the iBlade's simple head shape and fresh aesthetics provide a compact, appealing and confidence inspiring look at address.
Engineered from soft, 431 stainless steel, a higher strength-to-weight ration provides increased forgiveness, while an eye-catching, hydropearl chrome finish repels water for more control.
Other innovations include an improved elastomer insert for improved feel and sound at impact, and a thin, high-speed face for increased ball speeds and higher trajectories. Finally, better players will benefit from refined bounce angles that provide a more workable sole, as well as a precision-milled face with tour-proven groove specifications.
Golfshake View
Specification
Loft: Available 3 – PW
Shaft: Dynamic Gold (S300 and X100)
AWT 2.0 (R, S and XS flex)
Project X (5.0, 6.0)
XP95 (R and S flex)
N.S. PRO MODUS 105 (S and XS flex)
Price: £1,040.00
Find out more at Golfshake or visit the PING website.
Srixon Z Series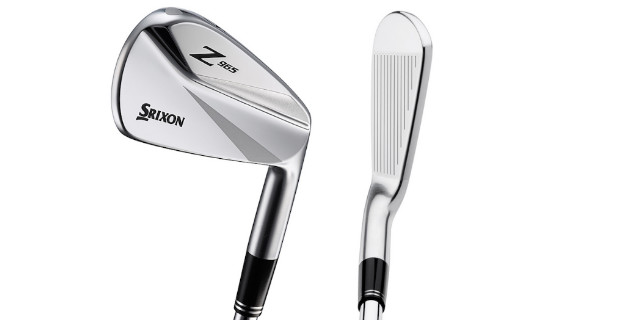 Both the Srixon Z 965 and Z 765 irons are perfect for the better players looking for exceptional performance. Both irons feature a Tour V.T. Sole that has been modified to move even more efficiently through the turf, reducing impact resistance and tightening shot dispersion for maximum consistency and control. Feel is also unsurpassed, combining ultra-soft S20C head material with a new special heat treatment for the smoothest and most consistent feel.
Finally, all iron faces feature 5% larger grooves compared to the previous generation and Double Laser Milling, which improves contact, especially in wet conditions, delivering increased friction and enhanced spin control. The 965 model is a compact muscle back ideal for the most advanced, demanding players. The 765 model is a muscle cavity preferred by skilled players for its traditional profile and exceptional control.
Golfshake View
Specification
Loft: Available 3 – SW
Shaft: True Temper Dynamic Gold (R300 or S300)
Nippon N.S. Pro Modus3 120 (S and XS flex)
Price: ??
Titleist 718 MB/CB Combo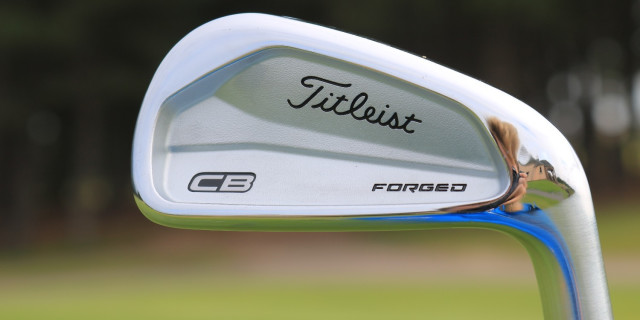 The Titleist 718 MB/CB combo set is perfect for those looking to combine a classic one-piece, muscle back in the short irons and a sleek, muscle back in the longer irons.
The MB iron is forged from a single billet of carbon steel for the purist look, sound and feel possible. Its strategically designed CG locations deliver superior shot-making and responsive feedback, allowing you to hit any shot possible.
The CB is a classically-styled cavity back that plays exactly how you expect. Offering playable shot control when you want it and forgiving performance when you need it, it is no wonder this club is played by so many on tour. The redefined leading edge creates more efficient turf interaction, enhancing the CB's solid forged feel and creates smooth contact and launch with every swing.
Golfshake View
Specification
Loft: Available 4 – PW
Shaft: Project X
Price: £150.00 per club (Steel)
£175.00 per club (Graphite custom fit)
Find out more on Golfshake, or visit the Titleist site.
Titleist 718 AP2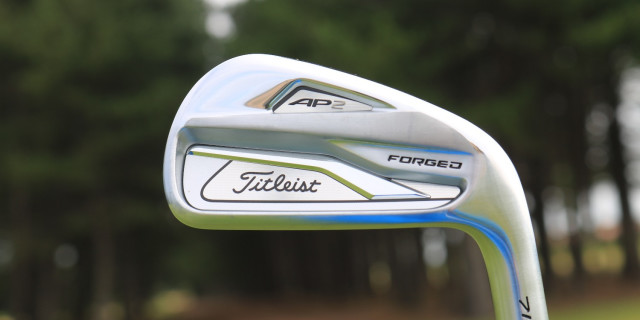 For golfers demanding the ultimate in playability with consistent distance and forgiveness, the 718 AP2 is for you. Both MOI and speed have been maximised to provide total control and distance in this Tour-proven iron.
Greater forgiveness and stability have been achieved through precise perimeter tungsten weighting and a unique co-forged construction. This allows you to attack pins with confidence. Tour-preferred look, sound and pure forged feel is all wrapped up in one iron and the refined leading edge offers more efficient turf interaction and pure feel through impact.
Golfshake View
Specification
Loft: Available 4 – PW
Shaft: True Temper AMT Tour White (R, S and XS flex)
Price: Price: £150.00 per club (Steel)
£175.00 per club (Graphite custom fit)
Find out more on Golfshake, or visit the Titleist site here.
TaylorMade P700 Series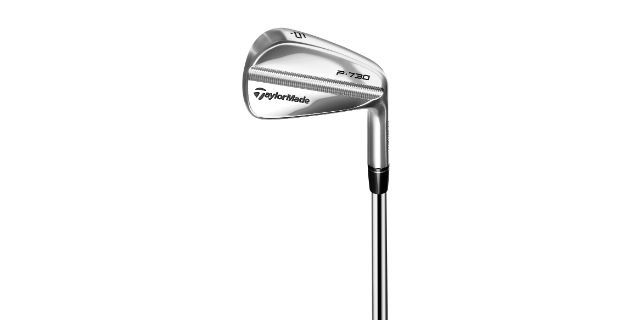 The TaylorMade P700 series offers three models in the players iron range in the P730, P750 and P770, designed specifically for Tour players.
The P730 has been developed by taking direct feedback from the best players in the world, and no features Tour-inspired shaping feature improvements over previous models. The iron has a smaller blade profile, redefined leading edge and crisp lines. The iron has a forged 1025 carbon steel head, with the face grooves precision-milled to produce soft feel, clean turf interaction and exceptional shot-shaping ability.
The P750 Proto has a shallower cavity and is reserved for the best ball-strikers. The head is created using a new, multi-step forging process that culminates with high tonnage strike – three times more forceful than a standard forged press, with a soft feel. The grooves are CNC milled for high precision and the extra step of milling the cavity ensures that the face thickness, CG position, and weight distributing are maintained to the highest standard.
Finally, the P770 delivers a true Tour iron for highly skilled players while simultaneously providing playability improvements that create a great playing experience. The iron features a uniquely forged 1025 carbon steel face/hosel and precision-milled faces and grooves along with 70-gram tungsten back-back weighting in the mid and long irons (3-7) and a one-piece forged cavity back construction in the short irons (8-AW) for added feel and control. This iron also has a higher MOI for ball speed consistency and has a lower centre of gravity, which creates a higher launch angle than its predecessors.
Golfshake View
Specification
Loft: P730 available 3 – PW
P750 available 3 – PW
P770 available 3 – AW
Shaft: True Temper Dynamic Gold S300 (P730 and P750)
KBS Tour FLT (S and X flex) (P770)
Price: £1,049.00 for seven irons
Find out more on the Golfshake or visit the TaylorMade site to learn more here.
Wilson Staff FG Tour V6
The Wilson Staff FG Tour V6 combines ultimate playability with game-changing tungsten sole technology to control those miss hits and make every shot count. 20 grams of tungsten, split heel and toe in the long irons and centred on the mid irons, lowers centre of gravity and provides optimal forgiveness across the set.
The iron maintains a solid, muscle back-like feel and workability, but with a cavity back design for more feedback and forgiveness. Finally, the 8620 carbon steel is forged for the ultimate in feel, feedback and response.
Specification
Loft: Available 4 – GW
Shaft: True Temper Dynamic AMT
Price: £699.00
What do you think? leave your comments below (Comments)
The Best Players/Forged Irons of 2018 As the upcoming golf season approaches, we have taken a look at the new releases that have emerged onto the market, bringing together the Best
Best Golf Irons Ever – An Ultimate Reviewing Guide
Without any single doubt, Golf is one of the most exciting sports around the globe. You need to be super strong and extremely precise if you want to succeed in this wonderful game. Apart from that, Golf equipment is also quite important for better results. Without best golf irons and clubs, your game is below par. So, after a lot of hard work and research, here is the list of best golf irons ever for you to complete review guide.
The list of best golf irons ever has been made after a lot of research and personal testing. We have compiled a list after keeping all the factors in mind so there is a fair chance that you may disagree with our list. So, without wasting a single moment lets start the proceedings.
Best Golf Irons Ever:
Here is the list of Best Golf Irons of all time.
Titleist AP2 716 Irons
To be very honest, Titleist is one of the very best golf club brands in the world. They have certainly produced some of the most amazing clubs in the recent times. The best Irons set Titleist has ever made is Ap2 716 Irons. It's a pure treat for any golf player.
Performance:
Well, Titleist has proven its performance a number of times, Once you start playing with Titleist sticks, then I am pretty much sure that you will not anywhere else apart from that brand. Ap2 716 Irons are absolute gold. A legendary club with a lot of class as well.
When it comes to feel, no one can beat AP2 716. In addition to that, the smooth swing without any vibrations is also the reason behind the unreal success of these irons. The high-density weights in the toe make you feel wow while ball striking.
Look:
Titleist Irons is always attractive and beautiful. The story is not that different either in AP2 716 Irons. Classic and compact are what all you can say about this wonderful club.
Product Features:
Dynamic Gold AMT Shaft.
Low Handicap Range.
Cavity Back Design.
112-130g Shaft Weight.
Forged Irons.
Regular, Stiff and X Stiff Shatt Flex.
Superior in feel, without any slightest of hassle about vibrations.
Great on heal and toe contact.
Immaculate distance control with improved MOI.
Incredible accuracy and precision.
Low Centre of Gravity (CG).
Beautifully designed.
Some guys think that the shots spin more than they actually want to.
Conclusion:
Titleist AP2 716 Irons are certainly one of the best golf irons ever made. A complete package with a lot of control and precision. Great in outlook and even better in performance.
Callaway Big Bertha Irons
There a quite a few series of Callaway Irons are available, but the Great Big Bertha Irons are the best ones by a long, long way. In addition to that, it is one of the most forgiving irons from the house of Callaway.
Performance:
The performance of this legendary club is exceptional. Callaway has used a strip of metal behind the face to shift that lowers the CG significantly. Moreover, it also helps in driving more force to the shots for better distance.
Look:
Callaway Big Bertha Irons set has a decent outlook alongside a great performance. It delivers a quite compact and strong look with its powerful design. Other than that, the shiny chrome finish at the address also puts the cravings in this package.
Products:
True Temper Speed Step Shaft.
D0, and D2 Swing Weight.
Chrome Finish.
Cavity back Design.
Regular & Stiff Shaft Flex.
Steel Material.
Most forgiving Irons in the category.
360 Degree Face Cup Technology has been used.
Responsive design and works well in rough patches.
Outstanding in feel and impact.
Maintains distance, even on mishits as well.
Swing is also strong.
Some players find it tough to control the distance with this club.
Conclusion:
Overall, in the league of Best Golf Irons, Callaway Big Bertha Is right up there because of its outstanding performance and class. In addition to that, the mark of Callaway also reflects the caliber of Big Bertha Irons.
TaylorMade M2 Irons
TaylorMade M2 Irons is what you need if you want the precise accuracy of the distance shots. Without a doubt, M2 Irons is one of the best golf irons ever produced by TaylorMade brand. Incredible forgiveness with sensational feel are the main attributes of this club. One of the best golf irons ever for sure.
Performance:
The extra support behind the back of the iron provides more power to the shots. Alongside crisper sound, the sensational impact makes you feel extremely confident during the gameplay. Moreover, the accuracy of this club is the standout aspect of this club and that's where it is way ahead of the race then its competitors.
Look:
TaylorMade M2 Irons deliver you a nice and well-balanced look with a little extra support at the back region. Not only that but also a big rounded head displays a sound feeling to the players. Overall its a confidence-boosting look for sure.
Product Features:
REAX HL 88 Steel Shaft.
M2 REAX Graphite Shaft.
Cavity Back Design.
Regular & Stiff Shaft Flex.
Available for both right and left hands.
No other iron can beat the accuracy of M2 Irons.
Sensational Feel and Impact.
Easy to swing distance shots.
You can hit the big distance shots effortlessly from the M2 club.
Well-balanced in design.
Incomparable in performance as well.
Some people dislike the too much muscle in the back area.
Conclusion:
Definitely, TaylorMade M2 Irons is one of the most demanding golf irons because of its sheer brilliance in performance. After playing with M2 irons, one thing is sure that you can't demand more, So, its a fantastic club for sure.
Ping G400 Irons
You all are agreeing with this point that Ping is a magnificent manufacturer of Golf clubs. From time to time, it has been right at the top of the chart with some mind-blowing clubs. Now, the latest Ping G400 Irons are just as good as you will get.
Performance:
Well, the G400 is the best ever golf irons, Ping has ever produced. As we all know that Ping has been exceptional in introducing best game improvement irons from time to time and in G400 Irons, you will see quite a difference in the shot making as well as performance due to slight technical adjustments.
You will see a thinner and more powerful face that offers 18% more flex at the point of impact. The unique Ping's COR-eye technology is also in the limelight of this outstanding club.
Look:
The overall club is a well-balanced design with plenty of things to like about. In addition to that, the "hydro pearl" chrome finish also reflects a fair bit of class while playing on the golf course. So, yes, a great package for sure.
We have made a list of best golf irons ever made by the top Golf brands. After a long research, we have come up with a list of 10 best golf irons of all times for you. Sit back and enjoy our list of the best golf irons ever made by world-class brands like Titleist, Mizuno Irons, Callaway, TaylorMade, Ping and others.