Golf Balls

TOUR C4 BEAT "THE #1 BALL IN GOLF ® ," THE TITLEIST ® PRO V1 ® !
C4 robot tests vs. Pro V1 (prior-gen) confirmed: Tour C4 delivered MORE carry, MORE total distance, and similar wedge spin!
TOUR C4 BEAT "THE #1 BALL IN GOLF ® ," THE TITLEIST ® PRO V1 ® !
TOUR C4 BEAT "THE #1 BALL IN GOLF ® ," THE TITLEIST ® PRO V1 ® !
C4 robot tests vs. Pro V1 (prior-gen) confirmed: Tour C4 delivered MORE carry, MORE total distance, and similar wedge spin! Look at the results below!
MG Tour C4 Only $19.99/dzn! It thrashes the $47.99/dzn street price of the Pro V1!
Long Distance, Straight Drives. The aerodynamic 332-dimple design and the extra-large core give you longer and straighter drives with low spin!
High-Velocity Core = More Distance. We reformulated the extra-large core amping up ball velocity to the extreme making the Tour C4 go farther than ever!
High Spin, Soft Feel with Short Irons. Like the Pro V1, the Tour C4 urethane cover (not Surlyn® like an ordinary ball) gives you high spin and a very soft feel close to the green and without sacrificing durability! (Read why you should play a urethane and not a Surlyn ball.)
Conforms with USGA Rules. So it's legal for tournament play.
$19.99 a Dozen, Money-Back Guarantee. Try them. If you're not satisfied just send them back within 60 days (even if they're used) for a full refund of the product price!
C4 robot tests vs. Pro V1 (prior-gen) confirmed: Tour C4 delivered MORE carry, MORE total distance, and similar wedge spin! Look at the results below!
MG Tour C4 Only $19.99/dzn! It thrashes the $47.99/dzn street price of the Pro V1!
Long Distance, Straight Drives. The aerodynamic 332-dimple design and the extra-large core give you longer and straighter drives with low spin!
High-Velocity Core = More Distance. We reformulated the extra-large core amping up ball velocity to the extreme making the Tour C4 go farther than ever!
High Spin, Soft Feel with Short Irons. Like the Pro V1, the Tour C4 urethane cover (not Surlyn® like an ordinary ball) gives you high spin and a very soft feel close to the green and without sacrificing durability! (Read why you should play a urethane and not a Surlyn ball.)
Conforms with USGA Rules. So it's legal for tournament play.
$19.99 a Dozen, Money-Back Guarantee. Try them. If you're not satisfied just send them back within 60 days (even if they're used) for a full refund of the product price!
Better carry and distance with comparable spin for almost 60% less!
I wanted to know how our Tour C4 stacked up against "The #1 Ball in Golf," the Titleist Pro V1 (prior-gen). So I took a sample of 2 dozen balls each, and headed out to our test facility to hit them with our Iron Byron swing robot. I measured their carry, total distance, accuracy, and wedge spin.
What were the results? The robot testing showed that the Tour C4 actually beat the Pro V1 in carry (by 6.7 yds.), distance (by 9.2 yds!), and they were very close on spin (within 250 RPM)! (Read more about the testing process with the Iron Byron swing robot here.)
But how about accuracy? Was the Tour C4 as accurate as the Pro V1? It was actually more accurate! Both balls were very accurate but the Tour C4 with 5.4 yds. of standard deviation edged out the Pro V1 with its 5.8 yds. (Simply put, standard deviation is a statistical measure of how far the balls go outside the average. Lower numbers are better.)
Imagine that! The Tour C4 didn't stop at matching the performance of the "The #1 Ball in Golf"— IT BEAT IT!
But that's not the whole story, on price it gets even better.The Tour C4 not only beat Titleist's $47.99/dzn street price— at $19.99/dzn it just trounced the Pro V1!
With the Tour C4 being clearly superior to the Pro V1 in practically every measure, unless you are a Tour pro sponsored by Titleist, is there really any honest reason not to at least try the Tour C4?
The difference between carry and total distance and why it matters.
As said before, the Tour C4 beat the Pro V1 both in carry and total distance. But what is the difference between the two?
Carry is simply the distance the ball travels from the tee to where it hits the ground while the total distance is from the tee to where the ball finally rolls to a stop (essentially carry + roll).
It's fairly obvious why total distance is important. But what about carry? Well, how many times have you hit a drive where it didn't quite clear a hazard? You probably said something like 'if only I would have got just 5 more yards, I wouldn't have lost my ball in the water!' The Tour C4 gives you that and more— nearly 7 more yards of carry!
How we built the Tour C4 to beat the Pro V1.
We started by reformulating the chemistry of the core to produce a much higher velocity than ever before. This was really a key element.
Next, because the urethane cover of the 3-piece Tour C4 is very thin, that core could also be made extra-large. And that, of course, makes your drives go extra long. The aerodynamic 332-dimple design of the Tour C4 also helps deliver those extra long drives. This ball flies straight and high, and lands hot making your drives go longer.
The ultra-soft urethane cover, with improved durability, gives you the high spin you need with your irons and wedges to stop the ball on the green— with stunning accuracy. Off a wedge, the Tour C4 spin rate is in line with the Pro V1 (within 250 RPM). On fast greens you can back the ball up 15 feet or more with either ball. And around the greens, the soft feel of the Tour C4 makes it easier to control and chip the ball closer to the pin for more one-putts.
We also employed state-of-the-art machinery and personnel to make the accuracy of the Tour C4 second to none. To make golf balls that are this accurate requires engineering and manufacturing of the utmost precision. Like car tires that are out of balance, any inconsistency in core placement and density, dimples, cover depth, etc . will affect the performance of the ball commensurate with the degree of the defect. The extent that Tour C4 eliminates these inconsistencies puts it among an elite few golf balls that comes as close to perfect as is now humanly possible.
Tour Pros Play a Urethane Ball—and You Should Too
Think about this: All of the top professionals in golf play a urethane ball, and a majority play the Pro V1 (that's why Titleist bills itself as being "The #1 Ball in Golf"). These are balls that can be played at the highest levels of competition. Knowing that your Tour C4 actually beat "The #1 Ball in Golf" in carry and total distance, practically matches their spin and accuracy, and has great feel will give you a real confidence boost that can transform your game. You won't get that with any non-urethane ball.
Game Improving Performance Guaranteed or Your Money Back!
I really want you to try the Tour C4 balls because I know you will shoot lower scores. So I'll make you this unbeatable deal:
Try the Pro V1 beating MG Tour C4 urethane balls for only $19.99 per dozen. If you aren't satisfied with the improvement your game has made, just send the balls back within 60 days for your refund (even if they're used!). You take no risk! Why pay $47.99/dzn for Pro V1 balls when you can pay only $19.99/dzn for Tour C4 balls that beat them? Order your MG Tour C4 balls today!
The MG Golf Tour C4 Urethane Golf Ball Beats The Titleist ® Pro V1 ("the #1 Ball in Golf ® ,") and Does It for over 50% Less!
7 Ways to Play the Round of Your Life
Forty years ago I came from six shots back on Sunday to win the 1973 U.S. Open at Oakmont. My final-round 63 was not only the lowest score relative to par in major history at the time (8-under), it's still the lowest final round ever shot to win a major. Many consider it the greatest round ever, and I wouldn't object — the ball went exactly where I wanted it to go on almost every swing. Here are the seven keys that helped me make history and that I relied on during the prime of my career. If you copy just a few of them, you'll find the magic hidden in your game — just like I did.
1. FOR LONGER DRIVES
Pause…then Accelerate!
I hit 13 out of 14 narrow fairways at Oakmont. Pacing my tee swing was the key.
To say I drove the ball great during the final round of the 1973 U.S. Open is an understatement. The only fairway I missed was on the par-5 12th, where the ball barely trickled into the right rough (I still made birdie). A lot has been made about the voice in my head that told me to open my stance just minutes before teeing off, but there's more to my driving success that week than that. I was really into using a light grip pressure at the time and making an extra-slow backswing. I mean really slow, then pausing at the top as soon as I felt my left shoulder hit my chin. I never rushed my transition, which a lot of amateurs do. Think about it: If you use 30 percent of your energy at the top, you'll only have 70 percent left for impact. My goal in swinging the club back slowly and pausing at the top was simply to save the energy in my swing for the strike, where I'd snap my left leg straight and sort of mush the clubface into the back of the ball. It worked. The zero-roll, 280-yard drive I hit on No. 18, complete with a noticeable pause at the top, was the longest one hit on that hole all day.
2. TO CONTROL DISTANCE
Hold Your Head Steady
I hit 10 approaches to within 15 feet that day, and six inside 10 feet. How? I caught my irons flush!
By far the best part of my game was ballstriking. I'd wear out the sweet spots on my irons. One of my secrets was to set my head even with the ball at setup and keep it there until the momentum of my through-swing pulled me up into the finish. I felt like my head was the hub around which everything moved — like planets around the sun. This is important, because when you move your head forward when you swing, you increase the likelihood of catching the ball on the heel (or near the toe, if you move your head to the right). Either way, you're going to miss the sweet spot, and your shots will travel a lot shorter than you expect.
3. FOR EXTRA ACCURACY
'Connect' Your Right Elbow to Your Right Hip
I hit every green on Sunday, and every shot was a "9" or "10" on my rating scale.
I'm big on impact. I studied it, and I watched and copied the guys who got impact right every time. By "right" I mean the clubface pointing at the target an inch before slamming into the ball, and for five more inches past impact, with the shaft leaning slightly toward the target. By the time the '73 Open rolled around, I felt I'd nailed it. My key was to get my right elbow on my right hip once I reached the halfway point of my downswing, and kind of glue the two together until I reached the same position in my through-swing. Syncing my right hip and elbow like this added power and helped stabilize the club for impact. It also reminded me to keep turning my lower body through impact.
If you're a slicer, I'll bet that your right elbow flies away from your right hip on your downswing. Practice this move in slow motion until you can re-create the same feel at full speed. This move, in my opinion, is non-negotiable.
4. TO KNOCK IT STIFF
Take a (Slight) Dip
I aimed away from the pin only three times on my way to 63. My iron swing was so on that even danger pins were green-light situations.
When I joined the PGA Tour in 1969, my father advised me to watch the best players hitting every shot and learn from them. I borrowed Gary Player's sand technique. I mimicked a few of Jack Nicklaus's putting moves. For the full swing, I looked to Lee Trevino, with whom I was paired in his very first tournament as a professional. Lee sort of "bowed down" to the ball when hitting an iron, and he absolutely flushed it. I made it my mission to copy this move. The way you do it is to keep your shoulders nice and level during your backswing, then drop everything down toward the ground as you swing into impact. I used to picture a weight sitting on the back of my neck and feel it forcing me to dip — ?not a lot, just an inch or so. It's a good face-squaring move and lets you swing down the line longer after impact. More important, if you're dipping down, then you're not rising up, which is probably the biggest amateur mistake I see. The moment you lift up is the moment the club shoots across the line and slices the ball off to the right. It's also the moment when the clubhead races past the shaft, which explains why amateurs have difficulty leaning the shaft forward at impact like the pros do.
5. FOR ULTIMATE CONTROL
Clear and Extend
I was 13 strokes better on Sunday than on Saturday. I felt like I couldn't be stopped.
I tore a muscle in my neck early that week lifting a suitcase, and the pain kept me from making one of my "must-have" moves, which was to extend my arms and the club down the target line while clearing my hips to the left. By Sunday, the pain had subsided, and stepping on the first tee I knew I could go back to my old swing.
Clearing and extending help you do a number of good things. The clearing part gives you power — your hips are the gas pedal for your swing. The extending part keeps the clubface square longer, which is good for accuracy. Combined, clearing and extending help you stay in posture. To be honest, they're two more moves that I borrowed from Trevino, who "chased" the ball down the line better and longer than anyone. Eventually, the rotational force of your swing will pull everything around to the left, but if your goal is to hit the ball straight, you must clear and extend. For extra proof, check out Ben Hogan's swing. He did the exact same thing.
6. TO BANISH 3-PUTTS
Putt Like a Piston
I needed only 29 putts to shoot my 63. Nine went in for birdie, and I only three-putted once.
Putting was never my strong suit, and the greens at Oakmont — in addition to those at Augusta National and Oakland Hills — are by far the toughest I ever faced. Yet I had one of my best putting days ever that Sunday. Leaving 17 of my 18 approach shots below the hole didn't hurt — I had 17 uphill putts, which are the easiest to make. Even so, my stroke was on fire.
Back then, I putted like I hit full shots: I'd make a slow backstroke, pause, and then accelerate through impact. Some guys putt "one, two." I was more like "one, two, pause, hit." While I don't recommend everyone copy my tempo, it's a good idea to copy how I made my stroke. I set up like Jack Nicklaus, by bending over more so my eyes were in a good spot and setting my right forearm almost perpendicular to the shaft. I knew I was in the right setup when I could see wrinkles form on the back of my right wrist. Then I'd use my right elbow as a battering ram, pushing the putter straight at the target. To me, this is the most reliable way to start the ball on line, especially when you're under serious pressure.
7. TO TAKE IT CRAZY LOW
Play with Aggression
I made four straight birdies to start my round and got within two shots of the leaders — before they even teed off! And I never let up.
The first hole at Oakmont Country Club is without a doubt the most difficult opening tee shot in the world. It's straight, but there's only a ribbon of fairway, with gnarly fescue and deep bunkers on both sides. The long approach shot on No. 1, to a green sloping away from you, is arguably the toughest shot in golf — period. Still, I piped my drive dead straight and hit a 5-iron that barely moved three inches off-line to three feet from the cup. That first hole gave me confidence, and when I followed that birdie with three more in a row, I was off and running and didn't let up. I was hitting the ball straight, so I didn't think about curving it. I stuck with what was working. As the old saying goes, "I went with the swing the day gave me." It gave me a great one.
The lesson here for everyday players is to welcome success. When you're playing well, don't hold back. Be aggressive. Go for pins. Try to get it close. Lay up off the tee only if you have to. So often golf is about managing mis-hits and bad swing thoughts, or struggling to shoot your index. Well, when the time comes and you're firing on all cylinders, take full advantage. Go low. Because you never know when it will happen again.
7 Ways to Play the Round of Your Life Forty years ago I came from six shots back on Sunday to win the 1973 U.S. Open at Oakmont. My final-round 63 was not only the lowest score relative to
The subject of golf tends to excite those who play the sport. It is more than a simple sport for those individuals, it is something that they can improve on and hone throughout their lives. In fact, it doesn't really matter how often you golf or how long you have been golfing, improving your skill is something that is likely on your mind.
One of the top ways to improve your game is to improve your long game . If you are ready to do so, then put these tips on how to hit a golf ball farther into practice.
Pay Attention to your Grip – One of the most important considerations for improving your golf swing and hitting the ball farther is your grip. When you make the proper adjustments, it will help you to swing through the ball and get some serious distance. First of all, if you are right-handed, move your left hand inward slightly so the knuckles are facing the target area. In addition, you should avoid gripping the club too tightly. A gentle squeeze is all that is needed.
Move the Hips – Do you remember Happy Gilmore and the advice that it was "all in the hips?" This advice is more accurate than most people realize. Amateur golfers tend to stand in a fixed position, using their upper body for power. If you swing through, twist and use your hips, however, you will have a lot more power when the club impacts the ball.
Straight Arm – This is a tip that can really make a difference in how far your ball will travel but it is difficult to put into practice. Your lead arm when taking a swing should be straight when you are swinging. Most people have a tendency to bend the arm as they are swinging but a straight arm will keep the club face square and the impact will be significantly better.
Weight Shift – The transfer of body weight during the swing is an important part of the long ball. When your swing is at the peak, about 60% of the weight should be on the back leg. As you move through the ball, up to 90% of your weight should shift through to the front leg.
These are some basic tips that you should keep in mind when trying to add distance to your shots. Using a GPS golf watch or other distance measuring gadget to track shot distance is a good idea so you can get instant feedback in regards to shot distance.
When you are able to hit the ball farther, you can shave some points off of your game. It's an important skill to master. We leave you with a short video tip that can help you add some distance to your game, enjoy!
The Right Golf Ball Is Important
A golf ball needs to be soft and tough at an identical moment and you can help your selection by checking out these golf ball reviews . So should you want a bigger ball, you're in for a wait. Whichever ball you pick, try to stay with that ball each time you play. The Birdie Ball is among the latest golf products around and a lot of people in the business are raving about it. This ball is most suitable for players with the maximum swing speeds and exceptionally higher spin or higher lift launch conditions. The TaylorMade Noodle ball is ideal for anyone that has a slow swing and they're durable and inexpensive. Thus, don't think a one moss ball in a 20 gallon will make a significant effect on your tank alone.
According to the rules, the grip ought to be round with no poke marks. Most significantly, you ought to be comfortable with the grip that you choose, otherwise you might not have the ability to attain the desired swing. It is crucial to decide on an appropriate grip that meets your play, ability and price range. Some of the best golf balls on the market at Callaway Golf Balls or Nike Golf Balls .
The info cited reflects the facts since they existed at that moment. Should you be hosting any sort of event with a golf theme, maybe you'll find some ideas you can utilize! You don't have to be all set for golf tours this weekend!
You're thinking about something different, possibly not even golf. Ladder Golf is simple to learn. It is the perfect family game to add to your time spent together. Every golfer is looking for the key to golf. Novice golfers might need to devote a small extra for the extra peace of mind that accompanies the 7′ x 8′ net. Locating a wonderful gift a golfer will love isn't that easy. The target golfers can have an issue.
Occasionally a photo is really well worth a thousand words. During a standard self-examination of the breast, if women discover a tough lump, they have an inclination to panic, as it might be an indication of breast cancer. Women above age 50, often become such small lump in their breast. If you're a lucky guy, it may get the job done.
There's nothing as simple as creating a costume from the object which you use to wash your ears. Because shouldn't need to, you won't even try. It can be simpler than you might imagine. Generally, it isn't harmful. It's also simple to put together so that you may start playing straight away. One of many principal reasons that players can shoot low scores on World Golf Tour is due to their equipment. The point is to make the most of selected materials to optimize what the golfer requirements.
Whenever you're going to play on a golf program, it's vital that you know more about the dress code to use. Because you can imagine, this is a basic requirement when hitting balls within your residence. The rules have developed over a time period and relate to quite a few situations which may happen during the progress of a game. Then you can begin working on distance control. Grip pressure needs to be light but firm. Water has a specific density, too.
The Essentials Of The Golf Bag
At the conclusion of this purchasing guide you're going to be able to find out which kind of golf bag matches your needs on the field better. It's also advisable to purchase your golf bag based on the range of golf clubs which you have. Golf travel bags often arrive with wheels so they may be easily rolled via the airport that's crucial since golf bags generally tend to be bulky items that are hard to maneuver. Visit http://www.golftravelbagstore.com/ to find out more information.
The bag might be a bit wobbly when it is not full. These bags generally have a whole lot of storage space and lots of club dividers that protect your clubs. Additionally, it is nice this is a rather versatile golf bag as it has a base that works with carts.
Don't feel you have to modify your clubs every couple of years to stay at the very top of your game. At some point, you won't need to consider it and you're going to know where to locate every club in your bag. Again, the quantity of dividers which you will need are contingent on the quantity of clubs and accessories you will carry.
Should you be new to the game of golf and on the lookout for the ideal bag, there's a lot of choices out there. If you prefer to relish the game of golf to the fullest, you must be equipped with the essential golf accessories. A complete game of golf highly is contingent on the selection of a golf club.
The bag needs to be light in weight since it will end up a whole lot heavier when stuffed with golf accessories and gear. This bag makes it possible to keep every one of your clubs easily organized. These bags also suit individual budgets based on the kind and design. They offer the most features and are very well made, but tend to be the most expensive category of bag you can purchase. These sorts of bags comprise of space-age materials like graphite, however, they more expensive. Such bags don't arrive with special stands. Before settling on any particular bag you have to determine how much storage space you need and how many club dividers.
Some bags don't have any divider system in any way. Read some reviews there are plenty of these bags available on the market. Hence, there are a number of general things that need to be considered before you get a golf bag. Now there are such a wide variety of golf bags available on the market, at times it can be extremely hard to choose only the ideal bag for your requirements.
You may want to take into account that, particularly when you will get a carry golf bag. Try to remember that if purchasing golf bags, the lighter it's, the better and more comfortable it'll be especially for the PGA . There are various varieties of golf bags offered on the market today. As mentioned in the beginning of this article, they don't have direct effects on the outcome of the games. High-quality golf bags can be extremely pricey, but there are a few things which you are able to do which will help you find that terrific golf bag at a reasonable price. When you get a high-quality golf bag, you need to make certain it's a color you will like carrying around for quite a few years to come.
Some Golf Courses Are Unforgiving
Most every golfer on Earth understands the advantage of a warm-up program to have the body prepared to play golf or any sport for this matter. As everyone probably knows, golf is more than merely a sport. Remember to have a look at our newest deals page including beach and golf vacation packages. In reality, golf was known to the majority of nations in the world these days. While it may be one of the main attractions, you'll also find plenty of cycling, surfing (of course!) Whether you've been golfing your whole life, or have just started to appreciate the game, Battleground at Deer Park supplies a membership option that is suitable for you.
You can get golf accessories that will enhance the overall level of your game (including how much you enjoy it also as how skilled you're at it). Appears to be a silly question, however employing a golf bag that fits with your fashion of play is likely to make the game more enjoyable and if you're enjoying your game more, you will under normal circumstances play much better. Flat-soled tennis shoes should be worn in any respect times.
A new construction program and accompanying fee structure was created to attain this objective. In this time, the course will stay open and playable. The number of Truckee golf courses keeps growing. The difficult training developed my stamina and I didn't become ill. Golf flexibility training has arrived a ways.
Arranging a ski vacation means you'll need to choosing from among quite a few different choices. Vacation rentals often have certain benefits over hotels, particularly if you wish to vacation in Hawaii. Luxury vacations provide an opportunity to observe the Earth, yet get away from it all.
Every resort differs, so every package is a little different. One of Northern Michigan's very best resorts, Treetops has everything. Naturally, the ideal thing is to take pleasure in the exceptional beaches. This resort is notorious for offering great packages that have unlimited golfing at the same time you remain in the resort. There are various golfing resorts and individual courses and all of them offer something somewhat different.
You may also make the most of group discounts a range of surrounding golf courses provide. So, should you have not ever had the chance to play golf in Scotland, but have always imagined doing this, you need simply to head to Lakewood Shores Resort. So, there's a good chance you're actually being picked on because you're an excellent individual, an honest individual, a tough worker.
With so many available alternatives, it may can be tough to know. Finally, you'll receive the very best collection of packages and the ideal price without the annoyance. Packages vary in the quantity of nights and rounds of golf provided. The golf packages are a bit hard to discover on the internet website, it's necessary for you to scroll down and they're in the left-hand corner of the webpage. Their golf packages consist of an offered round of golf or may consist of unlimited golf during the duration of your stay. This golf vacation package provides countless techniques to personalize your package at no extra charge. You can even have a look at our most well-known packages here and book online.
Picking the Right Golf Clubs
Many people think that golf is a pricey interest and to some degree, they are right. Golf, like every sport, has so many specifics and all them are so crucial it can be difficult to understand everything. In case you are interested in golf, perhaps you can turn into the golf caddy at first. Golf is among the most well-known sports in the nation. Before starting to learn how to play golf, let's see the method by which the game began. The very first issue to realize is that golf is about getting it in the hole in least total of swings possible, the player with the maximum number loses. Anyone who's incredibly seriously interested in golf may wish to be certain they possess the optimal/optimally golf equipment for performance.
If you go for this golf set, you are going to be obtaining a driver, wood, and putter. A golf set includes just one putter. You can get a kid's golf club sets for very sensible rates and you don't need to spend a lot of money.
Picking a good set of golf clubs is quite a significant part maturing in the game. A common set of clubs can be split in three major categories (although you may discover several other subcategories). Now you have your completely new set of clubs it's wise to verify your wardrobe to ensure you've got proper clothing to wear when you're out playing with friends and family.
Each club was created specifically to be used for a specific sort of shot. This club is long, and the shaft aids the typical person put some actual whip inside that swing. It is possible to acquire clubs at a fair speed. These clubs may be used to find both distance for a wood and swing as an iron. Thus you should consider many diverse things when purchasing the clubs. Such a club is made for power hitting. Keep reading to learn about a few of the reasons why it's in your best interest to stick with cheaper clubs, in addition to a number of the places which you can get them.
Be certain to have a look at the assortment of golf club covers as well. Golf clubs are a few of the priciest accessories to buy in regards to sporting goods. Firstly, you should get familiar with the forms of golf clubs which you need.
In regards to getting golf clubs, the majority of people find it to be a little overwhelming. It is crucial to re-grip your golf club at least one time in a year. The golf club is the one most critical component in a game of golf, and every player knows the importance of this bit of equipment. It is one of the most common pieces of equipment used in the golf game. Each golf club was made to have a comfortable selection. Golf clubs are basically a mix of three distinct parts stuck together. A wood golf club needs to be used if there's a significant distance between the place of the ball and the hole.
Golfing Is A Great Sport
Today's Golfer might be exactly the magazine to accomplish that hole-in-one. Golfing is among the best exercises that you may do. Above all, make it a fun experience no matter how good, or how bad you're playing. If you've ever played golf, you are going to be aware that the sport appears to have an overwhelming appeal to various sorts of individuals. When you first choose to commence playing golf, don't make the error of heading out and buying a costly set of golf clubs. It is very good golf, amazing fun, together with an inspiring message. There are a lot of clubs which were started in the world these days.
If you prefer to find out more about casting a fly rod, the best way to tie fly's, the best way to earn fly rods from blanks, or only have an excellent outdoor experience, take a look at a club in your town. The golf swing is essentially a chain reaction, like I've said before. Quite simply, a wonderful golf swing doesn't need manipulative hand action. In fact, there is in factn't an organic golf swing as such. A good golf swing doesn't mean you need to swing with arms. It's incredible how many will still try to play it with the exact same swing they'd play 90% of the moment.
You keep the club and hook it in the tress. When you go searching for clubs, you ought to look for a number of things that will raise the comfort and caliber of your buy. Every golf club vary differently from one another and finding the very best golf club will surely enhance your game and its always recommended to get the club that will provide you with that additional edge. There is a multitude of things which make golf clubs be different from one another. Purchasing the most appropriate golf club is important to your game. In case you are trying to find the most trustworthy and best hybrid golf club of 2011 then you've located it.
There are various diverse types of golf clubs out there and in the event that you did not check all of them out before you made your final decision do not have any way of knowing whether you choose correctly. Custom fitting your golf clubs isn't difficult in any respect. Nike golf clubs may have entered the industry late, but in a brief while the business has created an extraordinary effect in the business.
Playing computer games is among the top rated beloved activities for kids nowadays. To begin with, attempt to know how frequently you will be playing the game. If you prefer to boost your golf game this summer, then you have to understand what the ideal hybrid golf clubs of 2011. If you are likely to do one thing by means of your golf game, the very best thing you are able to do is get yourself some higher Heat.
If you're interested in golf training, there are quite a few teaching choices to get you started. Golf flexibility training has arrived a ways. In regards to picking golf equipment, you will always be confused with the range of equipment readily available on the market.
If you've considered buying a golf mat, now's the opportunity to do it. Your golfing mat might very well be among the ideal golf investments that you ever make, though it isn't among the most costly. Golf travel bags are excellent gifts for anybody who enjoys golfing. There are several methods for sending gifts.
The subject of golf tends to excite those who play the sport. It is more than a simple sport for those individuals, it is something that they can improve on and hone throughout their
TaylorMade M4 Iron Review
For the past few years I have been playing the TaylorMade RSi2 irons. I really liked the clubs and felt that I was having some of my best seasons playing with them. Then in February 2018 I was convinced to get a real fitting.
Holy shit, that was the biggest game changing 45 minutes in my golf career. If you have never been to a real fitting (not a Golf Galaxy Golf fitting), then you need to drop everything and schedule one. Let me say this again, DO NOT buy clubs without getting fit.
For my fitting, I went to Prestonwood Country Club in Cary NC to see Tom Reem. Tom was referred to me by my blogging partner Matt who had used him a few month before. Tom is a real deal club fitter with a partly cloudy disposition, backed up with about 40 years of experience. He is in the no fucking around zone.
Remember, this is February and cold as balls, but fortunately we were hitting out of a covered bay. Tom first took readings from my 7 iron. I was hitting the ball well that day and the 7 iron was falling 135 yards out on a consistent basis. Ok, pipe down, I told you it was February and it was cold. Anyhow, once we had a baseline, we moved to the TaylorMade M4 which was high on my list of prospects. Boom, out of the gate I was hitting it 143 yards. Tom them tweaked the shaft length a bit to gain a few yards but the dispersion was worse. I was ready to sign on the dotted line, but wanted to take full advantage of my time with him, so I asked him to bring out the new Callaway clubs, a Mizuno and Titleist AP2 (God I want to play those clubs).
After numerous well struck balls with each of those irons there was still never a contest as to what the best clubs were for me. Simply put, the TaylorMade M4 was by far longer and more forgiving than any of the other clubs I hit.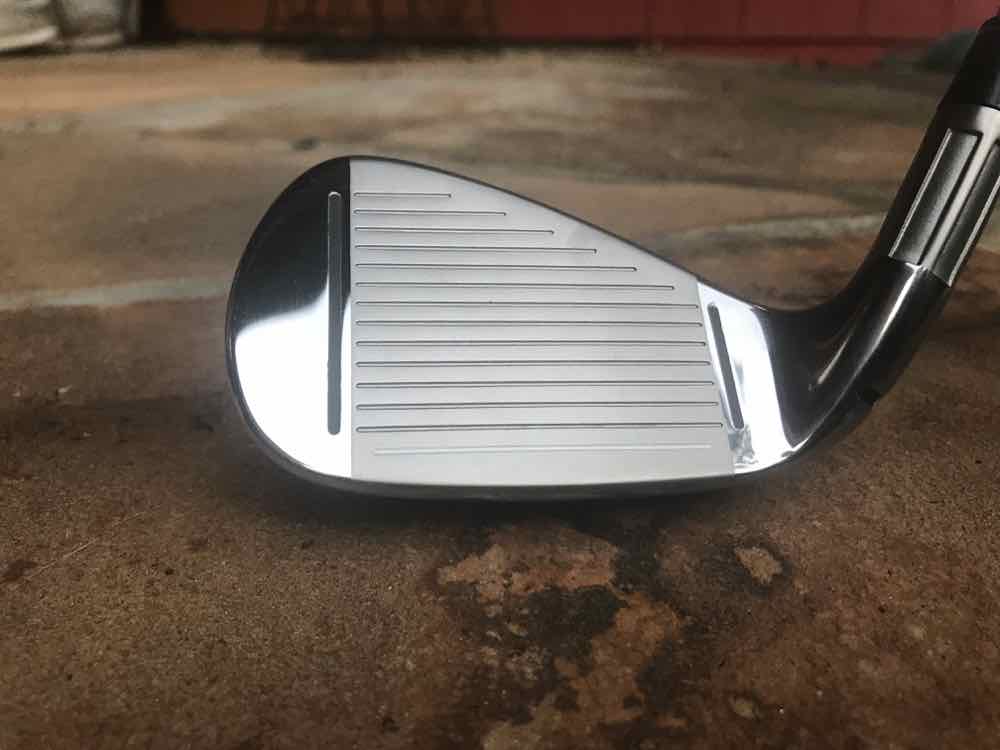 Fast forward to May 2018 and the temperature is in the high 80's and my game is in the low 80's. I am literally having to rethink my entire iron game. 143 yards, yea, I can step on a 9 iron. That my friend, was never an option with my RSi2's or any other club I have ever hit. I am now hitting a 5 iron 185 yards when it used to be my 160 club. And that 7 iron that went 143 yards in February is now traveling 160 yards.
So my message for this blog post is twofold. 1) I really do believe that the TaylorMade M4 is way longer than previous models (except the M2 which I also hit exactly the same yardage) and 2) you are a moron if you buy clubs without getting fitted.
My fitting cost $80 at a legit high end country club. For that I got a mini 45 minute lesson and clubs that are optimized for my swing. My session was so fulfilling that I am honestly pissed at myself for going so many years without a proper fitting. Sure, blogs like this are great to get ideas about what clubs might be best for your game, but until you hit balls with a Trackman you have no idea how they will really react to your specific swing. Why dick around changing your swing to match your club? Clearly it makes more sense to match your clubs to your swing. How many guys do you know who hit the ball too high or too low? Guess what, that can be fixed with a proper fitter. Shafts, don't get me started. I defy anyone to really understand how they effect a golf swing. I call bullshit if you tell me you know what mid-kick means or if it is good for your swing.
I have been playing TaylorMade irons for the better part of 20 years. In fact my first iron review was for the TaylorMade 2.0 which I still contend is an excellent club. In fact it was probably too good for TaylorMade as that model had sales legs far longer than they expected. From there, I played Rocketbladze, RSi2's and now the M4.
Prior to this latest purchase, I wanted to get the M2's which are short release irons. However, they stopped taking orders for the custom version like 9 months after they released them, grrr. With that said, I absolutely love the M4. They are more forgiving than the M1 or M3 and just as long or even longer. For the record I hit using the M1 and the M3. As a 9 handicap, I have fairly good accuracy, but until I am getting paid to play golf, I just don't see any reason to play a performance club (or god forbid a blade). Do I move the ball? Sometimes, but I am fine with a straight ball. The reality is that the M4 allows you to work the ball more than enough. Again, if you are a 2 handicap, go ahead and get the M3, but north of a 6 handicap, I don't see the advantage of giving up forgiveness for workability.
So back to my two main points. First, the TaylorMade M4 is long. Good lord, I am 1 or 2 clubs different compared to the Rsi2. I don't care if they are jacked up. Hitting a 6 iron is way better than hitting a hybrid. I won't bore you with the technical twist face technology, cause it's all hocus pocus to me anyhow. What does not lie is Trackman which put me 12 yards longer in 42 degree weather. In 87 degrees, it's like 18 yards longer.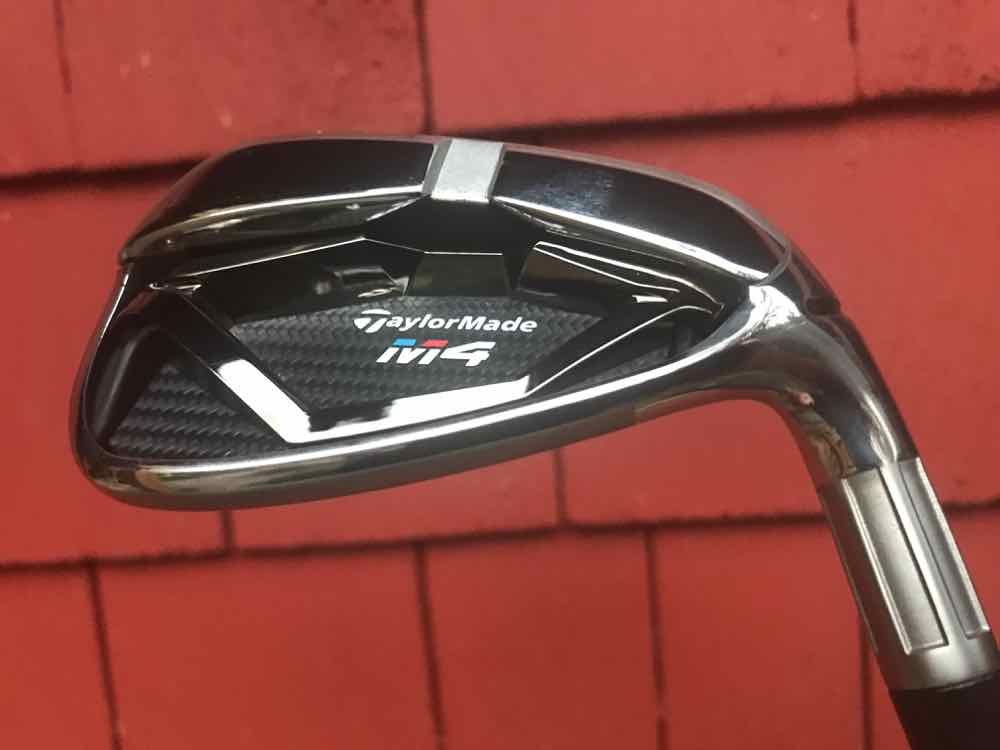 Secondly, and more importantly, stop buying clubs because you like the way they look or you read they are the best in 2018. Go get your ass down to a real country club or fitting center. I promise you will not only get better clubs, but you will learn a ton. For example, you will learn that given your swing speed you can lose or gain yards based solely on your launch angle. To illustrate this, I hit my driver 220 yards. Tom then showed me the data. Swing speed, 96 mph, laugh angle 12 degrees. He then showed me a graph which told me that if I could launch at 18 degrees, the ball would go 240 yards. NOTE: I am writing this is two months later and the above data are not exact but very directional (my memory is not what it used to be). The point is, I may not be able to swing faster but I can increase my launch angle either through fitting or changing my swing a bit.
The reality is, half of golf is physics. You know, Bryson DeChambeau witchcraft. While Bryson is clearly a nut job, along with anyone who plumb bobs, golf remains a game of numbers. Understanding how these numbers fit together and how they affect distance and accuracy can be a good start to improving your game.
Go out there and get fitted for Pete's sake and make sure you put the TaylorMade M4 into the mix.
As a long time TaylorMade fan, I can say these are the best irons I have reviewed. More importantly, I learned the best lesson which is – don't buy golf clubs without being fit. With that said, the TaylorMade M4 should be on your list to consider for this golf season.
Ball Guide
Using the right balls is every bit as important as using the right clubs in Golf Clash. Using special balls too early will put you at a disadvantage later in the game, and using a ball with the wrong attributes will not only waste a ball that could be useful, but can also put you at a disadvantage for that hole. Learning these points of the game can give you an advantage and help save you some pain and aggravation.
Starting the game, you won't need to use any special balls. Let's repeat: "I will NOT use special balls before I hit Tour 5". Even then, being the Golf Clash God that you are, you can probably continue using basic balls through Tours 5 & 6. At most, you can use a Marlin here and there to deaden a head wind or get a little spin with a low level Extra Mile which lacks curl. This is the time to build a reserve of special balls that you will definitely need when you get to the higher tours.
It's fairly common to see Quasars and Navigators on Tour 7+ and that's the first time you should be using them. By that point, your free, pin and 1 vs. 1 chests will cover the cost of them in the shop. Only in the most extreme circumstances should you consider breaking out a Katana or Titan. You're much better off saving those for higher tours and tournaments.
Speaking of tournaments, that is the absolute best way to build the stockpile of balls that you'll need. Finishing in the top 10 or 25 in a couple tournaments will get you well on your way to where you can use the balls you've won to win more (and better) balls in the future.
Needle Speed
While each ball has the same needle speed for regular powered shots (shots with the ball pulled back to the center of the circle or less), different balls have different needle speeds when you try to overpower your shot. Here you can find that speed for each ball in the game. The number listed is the number of swings the needle makes in 1 second (lower is slower). So a ball with an full OP needle speed of 1.63 will make a little over one and a half swings in one second while a ball with a full OP needle speed of 1.15 will only make a little over one full swing so it's significantly slower in those situations.
Obviously it's ideal to have a ball with the lowest needle speed, there are situations where it's probably not going to affect you at all. A perfect example are tournament Par 3's. You should pretty much never be overpowering that shot, so the OP needle speed isn't really important.
An Open Source Guide to Mastering Golf Clash
How To Play 7 Iron Golf Balls
By Paul Wilson • August 11, 2009
The other day I received an email from a gentleman who was having trouble with his swing tempo at 170+ yards out when he played. His email got me on a roll so I wrote a tip about it. Here it is:
As far as your golf swing tempo is concerned, it is maintained by basing your swing on your rotation as opposed to hitting with your arms.
Think of it like this … In a good golf swing the body (torso) doesn't even rotate at 3 mph. If your arms are completely turned off and you allow your body to move your arms as you swing, they would move very slowly because they only extend a short distance from your body. In other words, the swing speed of your arms is determined by how fast you can turn your body not how hard you are hitting. If your body rotates slowly in your swing, there is no way you would have a fast looking tempo.
On the other hand, if you are trying to hit the ball hard with your arms, you can move them a lot faster than your body. Therefore, your tempo will vary a lot more because it will be extremely difficult for you to judge exactly how hard your arms should be swinging at the ball every time.
So the idea is to turn your arms off and use your body rotation to determine your arm speed. This is what Swing Machine Golf teaches you to do. If you don't have Swing Machine Golf, here are 9 things you can start doing right away to develop a consistent swing tempo:
1. You have to understand Iron Byron and relate it to your own golf swing.
The arm of Iron Byron only moves when it's motor turns its driveshaft. When you hit your shots you should be imagining you are the Iron Byron. If you do, your body will determine how fast your arms would be swinging which will stop you from trying to hit the ball as hard as you can and give you a better tempo.
2. When you hit driver, DO NOT think about how far down the fairway you are going to hit the ball.
Think ONLY of getting the ball in the fairway when you are hitting driver. For example, if you are playing a hole and you see 2 fairway bunkers (1 at each side of the fairway) at 280 yards out, DO NOT think about getting the ball up to those bunkers. I want to you to look out and find a spot (let's say 200 yards out) that is in the middle of the fairway. This is the ONLY spot you should be thinking about. This way you are not thinking about DISTANCE and DIRECTION. You are only thinking DIRECTION. After you do this for a while you will become more consistent. This will make you more confident which will allow you to gain more distance without trying to hit the ball too hard.
3. Take an extra club when hitting into greens for a while.
Taking an extra club on approach shots will take the sense of hitting hard out of the equation because if you really nail your shot, it will fly over the green. Doing this for a while will allow you to stop trying to hit every shot so hard and give you better tempo. If this doesn't work take 2 extra clubs on your approach shots. Then you really will have to swing easier.
4. Change what you are thinking about in the backswing.
In the backswing, most people are thinking about either hitting the ball itself as hard as they can or they are thinking about something related to their arms in the backswing. What you should do is change what you are thinking about. You should be thinking about how your body is coiling as you go back. This coiling tells you that you have created the necessary torque in the backswing. Torque repeats in life 100% of the time. So feeling this coil tells you that you are basing your swing on something that is going to repeat which will allow you to develop a consistent tempo. If you don't sense a coiled up feeling in your backswing, you have not created the necessary torque. This means you will try to hit the ball with your arms because that is your only other power source you have to hit the ball with.
5. Do practice swings before you hit the shot.
As you do your practice swings, feel the stretch as I just explained in the previous point. After you are feeling the stretch in the backswing, focus on swinging through to the perfect follow through position each and every time. The logic is this, if you are thinking about trying to do the very same follow through position when you are done, you are not thinking about hitting the ball which is killing your tempo.
6. Tell yourself that you are not Tiger Woods.
If you are not Tiger Woods why are you trying to hit it like him? This just doesn't make sense. Be yourself and try to swing at a level where you are not failing off balance, out of control or hurting yourself. Remember, your body rotates very slowly in a golf swing. If you are basing your swing on this rotational speed there is no way your tempo would be too fast.
7. Focus on making great swings not hitting great shots.
Great swings = great shots. Great shots = great scores. In other words, re-think your priorities. Focus on making great swings and the great shots will come. Right now you are trying to hit great shots without a great swing. Sure, you may get lucky and hit a few great shots thinking this way but to hit consistently great shots you need a great swing.
8. Keep doing tons of practice swings at home working and at the range working on perfecting your swing positions.
The swing positions I teach are vital to creating a great golf swing. With each of these positions, I give you specific feedback to make sure you are doing them perfectly. So … focus on this feedback instead of focusing on hitting the ball. This will make the positions more important to you than where the ball is going. Once this occurs, you will make the changes to your swing which will allow you to hit great shots.
When you are at home use a mirror or watch your reflection in a window as you do about 25 – 50 practice swings every night. When you do the position(s) make sure you are trying to feel the feedback for each one. When you are at the practice range, hit a few balls then back up and do 3 times more practice swings than balls you just hit (feeling the feedback). The whole idea is to switch the numbers around. If you just hit ball after ball with your old swing you will NEVER make the changes. You need to do the new positions 3 times more than the old. Once you flip the numbers around like this, you will finally make the changes and play great golf.
9. Realize that what you are doing is not working.
If you have a fast tempo you are trying to hit the ball too hard with your arms. If this is the case, you have to snap out of it and come to the realization that this is not working. The longer you continue to hit, the longer it is going to take you to play great golf. The epiphany I had was when I saw Iron Byron hit a ball. After seeing It, I realized that its arm of Iron Byron is not moving independently of its driveshaft and motor. This meant its arm was powerless. Understanding this concept made me realize my swing was not working so I turned my own arms off and make them powerless as well. As soon as I did, my whole world changed. Yes, it was a different feeling but it worked and still does to this day.
Conclusion
The whole idea here is to turn your arms off and allow the rotation of your body to make your arms swing. Your body cannot turn all that fast in a golf swing. This means that if your body is telling your arms how fast to swing you would never have a fast tempo.
Unfortunately, I had to figure this out on my own because no one ever told me to not hit the ball with my arms. If you can take the advice I have given you in this tip and stop hitting with your arms, you too will develop a consistent swing tempo.
If you are having trouble with your golf swing tempo give this golf tip a quick read. You will be glad you did.